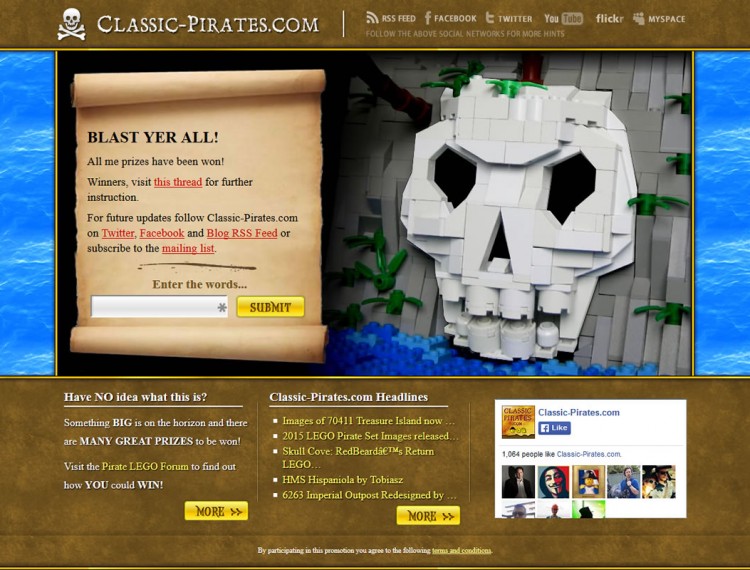 Client Testimonial
I've been working with Brad for almost 10 years. Every time he showed me his latest work for our website I experienced a 'WOW' moment!  It's the combination of professionalism, dedication and talent which make him such a great web/graphic designer.
More Testimonials
Project Decscription
The Client
Classic-Pirates.com is the largest online LEGO Pirates AFOL (Adult Fan of LEGO) community in the world. The community offers fanatics various platforms of interaction including a blog, forum, Facebook page and Email list with graphical HTML based Emails which we designed.
Despite being managed by a team of hardworking volunteers, like any organisation Classic-Pirates.com must conduct regular online marketing and promotion strategies to stay ahead of its competitors.
The Project
The primary aim was to build a new Email list for Classic-Pirates.com while the secondary aim was to increase Facebook page followers. This was achieved by using a highly imaginative promotional strategy in which the entrant could win LEGO prizes provided by a sponsor.
The Talking Skull was a gigantic enchanted skull carved into a cliff face which guarded a secret treasure cave within. The entrant would interact with the skull by entering guesses into a simple input box. The skull would then respond to guesses via text output, either by teasing the entrant or providing cryptic clues to subtly steer them in the right direction.
Only entering the precise magic words would the skull grant access to the treasure cave and award the first successful entrant with the grand prize. Smaller prizes were awarded along the way for words the Skull deemed appropriate, bringing the total prize winning opportunities to 18.
To gain additional clues entrants could subscribe to the mailing list, "Like" the Classic-Pirates.com Facebook page, subscribe to the blog RSS feed or follow forum discussion.