Outstanding plumbing services delivered with professional and quality workmanship
Hi *|NAME|*
Just thought id give you an introduction to our company.
We are a passionate and dedicated plumbing and service group who are committed to delivering quality and professional workmanship to our clients and customers.
We would love to build a relationship with your company and we would love to get a chance to prove what we can do.
Take a look at what we offer and please feel free to call me direct or our office staff if you have any questions.
kind regards,
(signature and photo)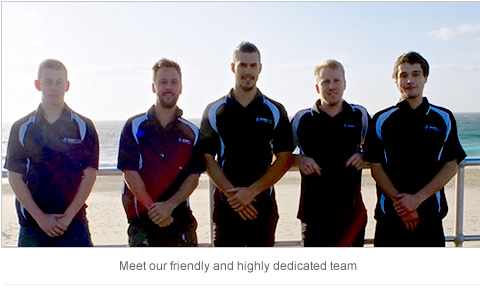 Looking for prompt, reliable, around the clock plumbing team to service your properties? WaterTech is your one-stop-shop for your real estate and strata plumbing requirements.
With decades of combined experience in real estate and strata plumbing, we have fully licensed and qualified plumbers, drainers and gas fitters on hand when you need them.

All Real Estate and Strata Plumbing Services:
Rely on WaterTech Plumbing for all your plumbing and gas service needs:
Emergency plumbing
General plumbing: taps, toilets, sinks, showers, baths and burst pipes
Hot water system servicing, repairs and installations - all brands and types (electric, solar, gas and heat pump)
Plumbing maintenance services for strata title properties
Water efficiency assessments for residential and investment properties
Our plumbing technicians are committed to delivering professional services and superior standards of workmanship that's on time and within budget.

Experience the WaterTech difference today:
Six star customer service
Peace of mind
Efficient and professional plumbers
Superior workmanship
Keeping you informed every step of the way
Designated client relationship manager
24/7 emergency dispatch

Read what our customers say about us
"Head and shoulders above the rest, reliable, cost effective"
"Scott Young is by far the finest tradesman I have ever met The work he did on my home was head and shoulders above more than 20 other trades I engaged during my renovation project. Scott is honest, professional, hard working, extremely reliable and cost effective. I always recommend Scott to clients and family."
Steven Chen
McGrath Estate Agents

"Their quality of work is evident and they're professional"
It's with pleasure that I write this letter, recommending the Watertech guys for any plumbing works - no matter size or complexity.
I look after a portfolio of large commercial properties varying in age, whatever the scale of project or resources needed, Scott and his crew have always attended as quickly as needed and completed the works how I expect.
Their quality of work is evident by the very few call-backs I've had to make. Their experience is apparent as is their advice (on how to avoid issues recurring) simply works.
They're professional with tenants, they give me the service I can rely on, and their invoices are competitively priced.
I recommend Scotty and his team at Watertech for any project or maintenance works and I welcome anyone to call to verify this recommendation.

Kind Regards,
Matthew Pollak
0402 111 311
City Fringe Property Leasing, Sales & Management
TGC | Level 7, 219 Castlereagh Street | SYDNEY NSW 2000


"Outstanding plumbing services delivered through quality and professional workmanship"
proud to be a implementing externally monitored, safety, quality and environmental policy and procedures in our business we do this to prove to our customers and clients that we follow our advertised VFP valuable final product above.