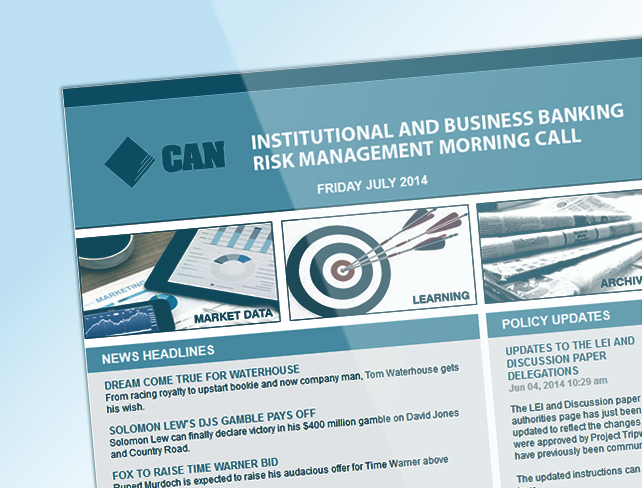 General Testimonials
Brad is great to work with - this is the 2nd project I have hired him for. Communication is excellent and I will continue to hire him if I have other jobs. Really excellent high-quality design. Brad is a true professional! Fantastic as always!
Amazing! Helped us out of a total nightmare, calm, friendly, fast & great to work with. Will definitely rehire as soon as poss. A huge five stars from us! THANK YOU!
More Testimonials
Project Decscription
The Client:
CAN Institutional and Business Banking is a division of the Commonwealth Bank which enables other businesses to partner with them and take advantage of their insights, technology and expertise. They offer a range of innovative products and services to assist business growth.
Through their Business Banking Specialists, they cater their services to all industries; including not-for-profits, agricultural, professional services, retail, manufacturing and property.
The Risk Management sub-division offers clients interest rate risk management and hedging solutions using a comprehensive range of product alternatives and the deep insights available through their 24 hour global market coverage.
The Project:
The client provided a rough HTML Email template and requested it be turned into a RSS driven newsletter. Web Design Expert refined the design and recreated it as a MailChimp template, incorporating three different RSS feeds and a Dilbert comic strip which changes daily.
The date in the banner is also dynamically populated making this template fully automated.