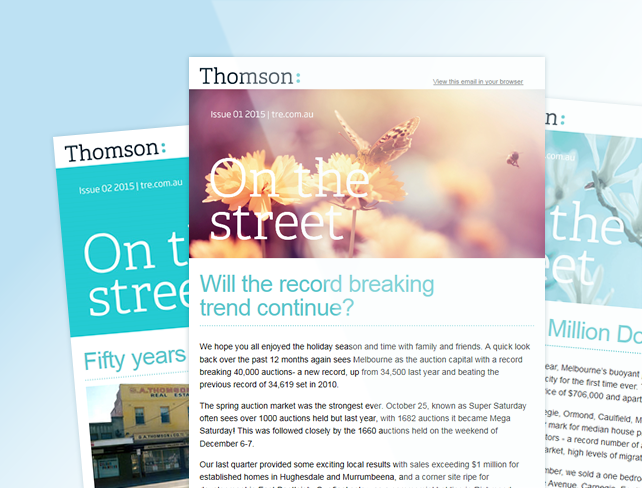 General Testimonials
This job was completed in a timely and professional manner. I highly recommend this freelancer!
Will Richards
Owner
BigMediaHouse
Quick and easy!!!
Pierre Marais
Owner
Print24
More Testimonials
Project Decscription
Templates
The Project:
Update a quarterly MailChimp template; Justin has a client with an existing template however he was was looking to outsource the quarterly updates to an experienced HTML Email designer. Based on my MailChimp expertise he hired me for the job.
Justin provides all the text and images, then it's up to me to edit and arrange the content to suit the template's layout. Some photo editing is also required to ensure all the images are working harmoniously within in the design.
The Client:
These Emails are maintained for Thomson in conjunction with Studiomardo, a corporate identity & branding agency owned by Justin which is based in New South Wales, Australia.
Thomson is an independent multiple-office network, specialising in property sales and rentals. They send a quarterly electronic newsletter informing readers of the state the rental market, a real estate price preview, rent report, and information about the latest properties Thomson has leased and sold.