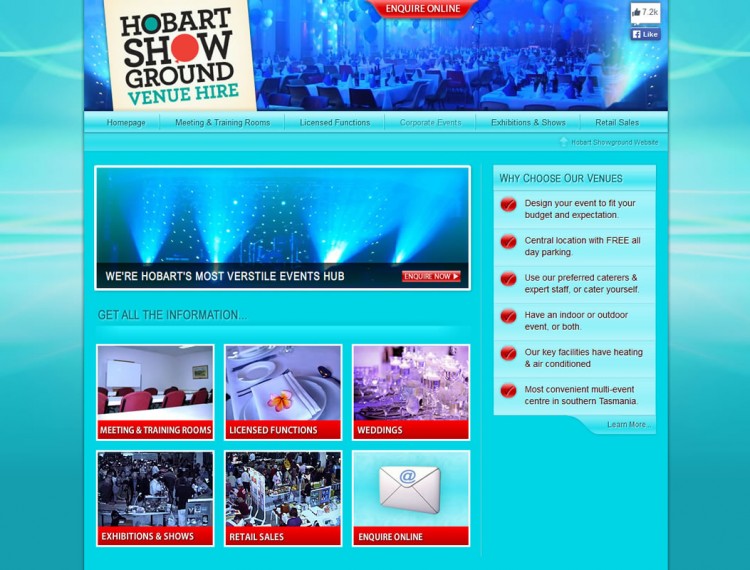 General Testimonials
This was the first time we as a company had outsourced any kind of projects. Brad was both extremely knowledgeable and professional. We were able to complete these tasks in record time an also progress on future tasks. I would highly recommend his services to anyone who needs a helping hand through MailChimp and coding. Thanks Brad, looking forward to working with you again soon.
I've been working with Brad for almost 10 years. Every time he showed me his latest work for our website I experienced a 'WOW' moment!  It's the combination of professionalism, dedication and talent which make him such a great web/graphic designer.
More Testimonials
Project Decscription
The Client
The Royal Hobart Showground in Glenorchy, Tasmania, Australia is a multipurpose site which hosts a variety of events, including the ever popular Royal Hobart Show.  Throughout the year the Showground hires its facilities to organisations and the general public for a wide range of functions.
The Showground offers meeting and training rooms, fully licenced and catered dining areas, as well as, facilities for exhibitions, live bands, parties, corporate events and retail sales.
The Project
The website's primary aim is to generate leads via the Contact Form, conveniently accessible from most webpages.   The homepage clearly outlines the benefits of hiring the Showground's facilities and showcases each type of function the Showground is equipped to cater for.  The showcase thumbnails link to content webpages which provide more comprehensive information about each facility.
We redesigned the website with an electric blue interface to communicate the Hobart Showground's facilities were suitable for the general public's social engagement.   This has proved successful as there has been a noticeable increase in the number of leads wishing hire facilities for birthday parties and weddings.