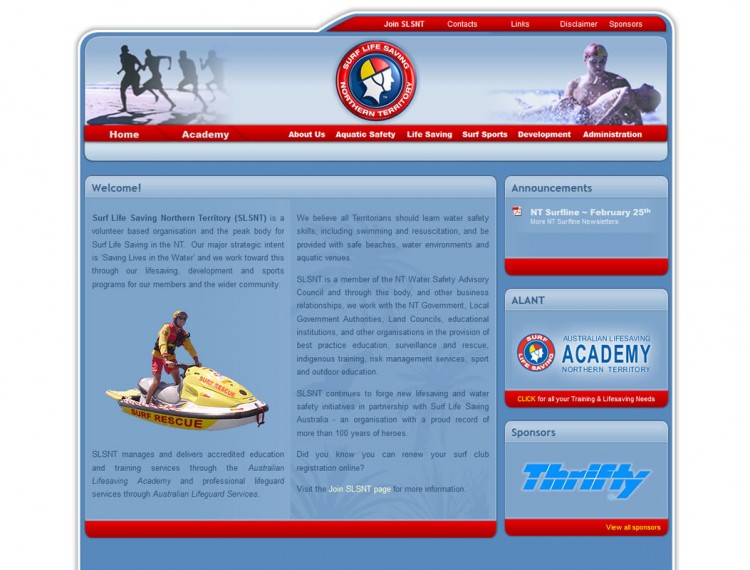 General Testimonials
Brad was great to work with and very responsive considering he is in Australia and we are in the UK. Great work, love the design, and happy to make changes as needed. Highly recommended.
TO WHOM IT MAY CONCERN. Your Web Design Expert has been assisting Surf Life Saving Northern Territory with the hosting and maintenance of our website for two years. We selected Your Web Design Expert on the recommendation of a third party and we're so pleased we did. They have given us great advice and is extremely responsive when it comes to updating information and attachments – always a simple, 'no fuss' process. On behalf of Surf Life Saving NT I have no hesitation in recommending Your Web Design Expert to any prospective client.
More Testimonials
Project Decscription
The Client
Surf Life Saving Northern Territory (SLSNT) is a volunteer based organisation in the Northern Territory, Australia.  The organisation saves lives in waters around the Territory's coast, as well as, advocating water safety skills resuscitation which they provide at beaches, water environments and aquatic venues.  SLSNT ensures the provision of the best education practices, surveillance and rescue, indigenous training, risk management services, sport and outdoor education.
SLSNT also delivers accredited education and training services via the Australian Lifesaving Academy and professional lifeguard services via Australian Lifeguard Services.
The Project
This 70+ page website was designed entirely via Email correspondence, not once did we need to meet with the client (not feasible given they were not the other side of the country) or even speak on the telephone!
SLSNT wanted us to redesign their previous website using the exact same interface we designed for Surf Life Saving Tasmania (SLST) in 2006.  However, by this time we deemed the SLST website's interface to be somewhat antiquated so we upgraded the design in the process.  SLSNT was certainly pleased we did!
The SLSNT website provides a vast resource of Surf Life Saving information, essentially everything Northern Territorians need to know about SLSNT, like how to become involved, how to practice water safety and a wealth of water safety training material.
Sadly, in early 2010 SLSNT downsized and merged its Information Technology department with Surf Life Saving South Australia.   This meant all IT related matters, including the website were to be handled by SLSSA and our happy working relationship with SLSNT was unable to continue.