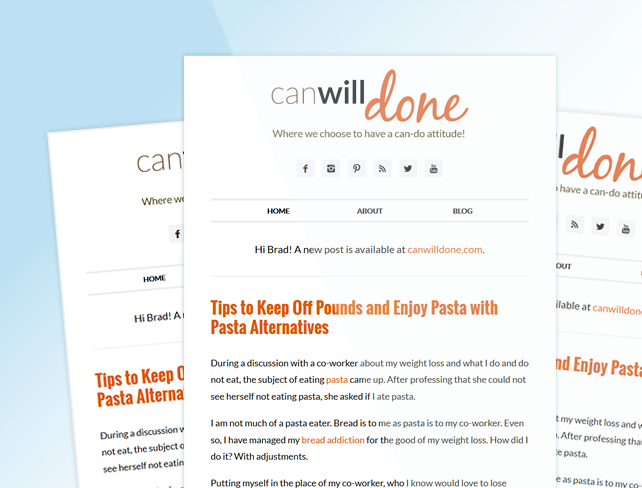 General Testimonials
TO WHOM IT MAY CONCERN. Your Web Design Expert has been assisting Surf Life Saving Northern Territory with the hosting and maintenance of our website for two years. We selected Your Web Design Expert on the recommendation of a third party and we're so pleased we did. They have given us great advice and is extremely responsive when it comes to updating information and attachments – always a simple, 'no fuss' process. On behalf of Surf Life Saving NT I have no hesitation in recommending Your Web Design Expert to any prospective client.
Tony Snelling
Chief Executive Officer
Surf Life Saving NT
Extraordinarily easy to work with and great results!
Stephen Noble
Director
Broadband Plans Simplified
More Testimonials
Project Decscription
The Project:
Design and code a RSS Driven MailChimp template; Pam wanted a more professionally designed MailChimp template consistent with the appearance of her blog. Being a RSS driven template the content is imported from her WordPress blog, however what made this template challenging was her use of the "Click to Tweet" plugin as she wanted to preserve the formatting of the plugin's output in her Emails.
Adding to the challenge was the fact MailChimp doesn't apply inline CSS to content imported from RSS feeds. So to ensure the formatting was correct I had to not only modify the Click to Tweet plugin, but also create a custom RSS feed which applied inline CSS to the content to ensure the hypertext remained the correct colour.
The Client:
Pam is life learner, motivational speaker and cheerful giver, who gives inspiring speeches, while striving to improve herself and help others. Through her blog, canwillDONE she shares her personal struggles which include issues like perfectionism, self-doubt, and fear.  Pam's vision is to see everyone living their lives stretched beyond the limitations imposed by their minds.