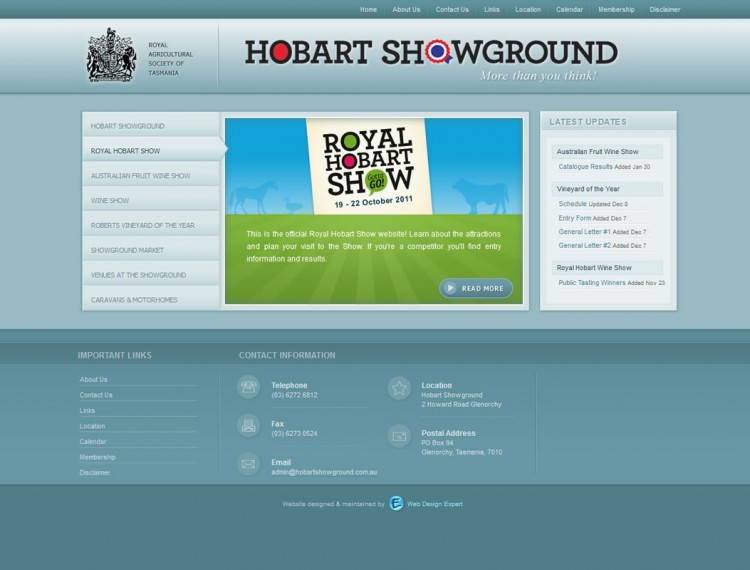 General Testimonials
Amazing!  Probably the most professional WordPress expert freelancer!
Taj Barr
Founder & Owner
Taj Barr Production
Hi I am Pamela Burke of canwilldone.com. I live in the US, Somerset, NJ. Brad worked on my RSS driven template. I am beyond pleased with his work. In fact, I told him that a few times during the time he worked on my template. What I liked most about Brad was how thorough he was. With the time difference we communicated a lot via email. He would spell out, step by step, a proposal, options, or what he would do. That made it very easy for me to ask relevant follow up questions. Brad also made sure to ask for feedback on what he had done thus far to make sure he was going in the right direction. I appreciated that. For anyone needing such services, I would highly recommend Brad. I cannot wait to set up the new template!!
More Testimonials
Project Decscription
The Client
The Royal Hobart Showground is a multipurpose site located in Glenorchy, Tasmania, Australia which hosts various events throughout the year, most notably the Royal Hobart Show.  The Showground also offers a Motorhome Park, Venue Hire facilities and a Market each Sunday. In addition the Royal Hobart Showground office manages external events which include the Royal Hobart Wine Show, Royal Hobart Fine Food Awards, Australian Fruit Wine Show and Vineyard of the Year.
The Project
Note this version of the Hobart Showground website active between mid 2010 and mid 2012.  To view information about it's successor, please visit the 2012 Hobart Showground webpage.
The objective was to design a central hub which united the Showground's various initiatives, each of which has a sub-website with its only colour scheme and aesthetic.  This was achieved by creating a perpetual slideshow introducing each initiative with its logo over a colourful background and brief description beneath. A "Latest Updates" on the right side of the layout enables website visitors to quickly identify additions or revisions to the sub-websites.  The website also contains contact details, directions to get to the Showground, a calendar of events and membership registration information.