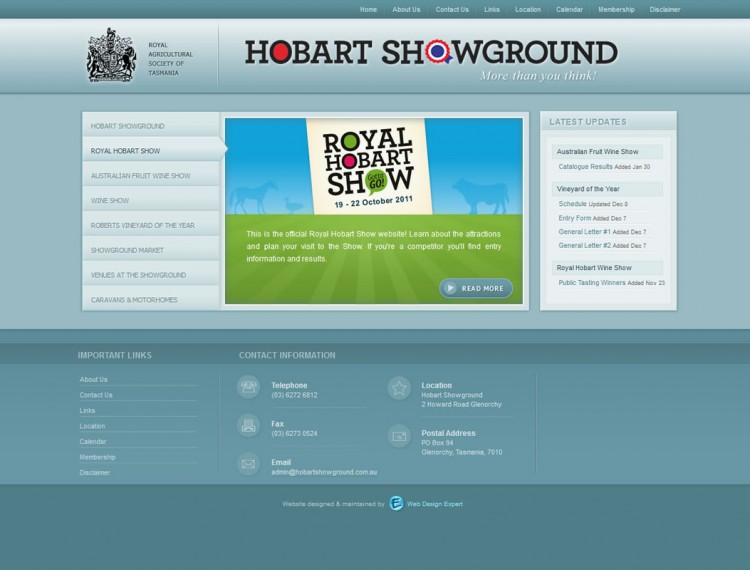 General Testimonials
The templates look really good, Brad! I love what you did with the first one we worked on, I've tested it out a few times to Yahoo, Outlook and Gmail and it displays beautifully. Thank you very much! Your services are greatly appreciated and this is going to help my business's branding and reputation considerably in Wisconsin and the United States. I'm sure I'm just going to have you on my Email speed dial down the road for making any changes as well or as my consultant going forward. Thanks again Brad, you do GREAT work, it's been a pleasure working with you!
Perfect. Very open minded and excellent designer. Offers ideas to help and someone I can always trust. excellent work.
More Testimonials
Project Decscription
The Client
The Royal Hobart Showground is a multipurpose site located in Glenorchy, Tasmania, Australia which hosts various events throughout the year, most notably the Royal Hobart Show.  The Showground also offers a Motorhome Park, Venue Hire facilities and a Market each Sunday. In addition the Royal Hobart Showground office manages external events which include the Royal Hobart Wine Show, Royal Hobart Fine Food Awards, Australian Fruit Wine Show and Vineyard of the Year.
The Project
Note this version of the Hobart Showground website active between mid 2010 and mid 2012.  To view information about it's successor, please visit the 2012 Hobart Showground webpage.
The objective was to design a central hub which united the Showground's various initiatives, each of which has a sub-website with its only colour scheme and aesthetic.  This was achieved by creating a perpetual slideshow introducing each initiative with its logo over a colourful background and brief description beneath. A "Latest Updates" on the right side of the layout enables website visitors to quickly identify additions or revisions to the sub-websites.  The website also contains contact details, directions to get to the Showground, a calendar of events and membership registration information.