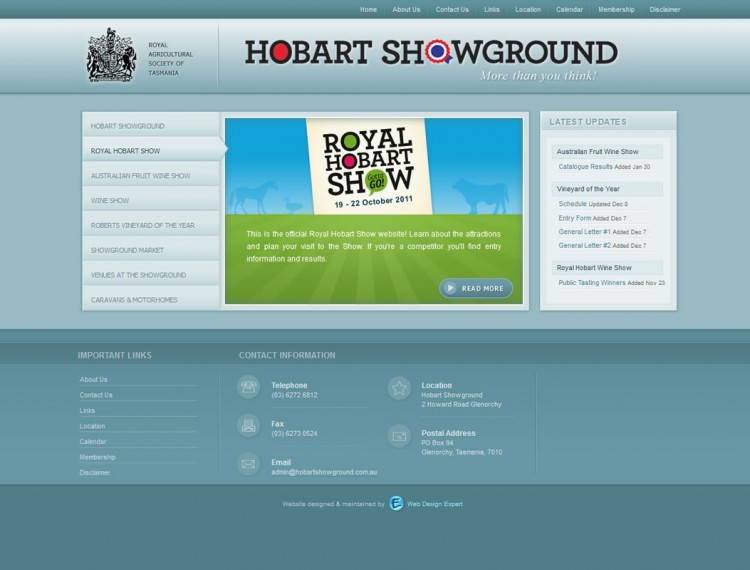 General Testimonials
The website looks amazing! Perfect! Will hire again and I do recommend Brad M. for your work.
Brad was excellent. After many hours of frustration reading help articles Brad came to the rescue. He simplified a complex issue and was flexible in his communication and tasks. Brad developed a seamless RSS feed email that "talked" to wordpress effectively to display images and was able to tell us more information that any other 'specialist' we had contact with. Thanks Brad
More Testimonials
Project Decscription
The Client
The Royal Hobart Showground is a multipurpose site located in Glenorchy, Tasmania, Australia which hosts various events throughout the year, most notably the Royal Hobart Show.  The Showground also offers a Motorhome Park, Venue Hire facilities and a Market each Sunday. In addition the Royal Hobart Showground office manages external events which include the Royal Hobart Wine Show, Royal Hobart Fine Food Awards, Australian Fruit Wine Show and Vineyard of the Year.
The Project
Note this version of the Hobart Showground website active between mid 2010 and mid 2012.  To view information about it's successor, please visit the 2012 Hobart Showground webpage.
The objective was to design a central hub which united the Showground's various initiatives, each of which has a sub-website with its only colour scheme and aesthetic.  This was achieved by creating a perpetual slideshow introducing each initiative with its logo over a colourful background and brief description beneath. A "Latest Updates" on the right side of the layout enables website visitors to quickly identify additions or revisions to the sub-websites.  The website also contains contact details, directions to get to the Showground, a calendar of events and membership registration information.