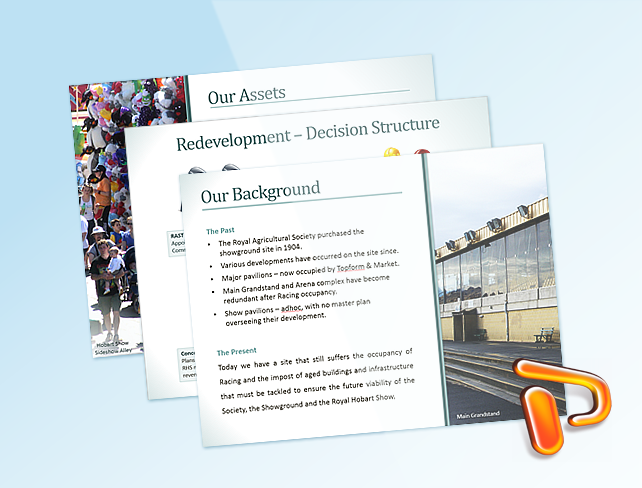 General Testimonials
The templates look really good, Brad! I love what you did with the first one we worked on, I've tested it out a few times to Yahoo, Outlook and Gmail and it displays beautifully. Thank you very much! Your services are greatly appreciated and this is going to help my business's branding and reputation considerably in Wisconsin and the United States. I'm sure I'm just going to have you on my Email speed dial down the road for making any changes as well or as my consultant going forward. Thanks again Brad, you do GREAT work, it's been a pleasure working with you!
We were very happy with the services offered by WebDesignXP. The team was able to overcome the challenge of building a drag and drop template into MailChimp. We are really happy by the services, and we recommend without a doubts to everyone serious about expertise in MailChimp.
More Testimonials
Project Decscription
The Client
The Royal Hobart Showground is a versatile site located in Glenorchy, Tasmania. It hosts various events throughout the year like the Royal Hobart Show and perennially offers a Motorhome Park, Venue Hire facilities and Sunday Market.
During April 2012 the Royal Agricultural Society of Tasmania board of management released plans to redevelop large sections of the Hobart Showground. This included sections of the showground for commercial use and the demolition of the various exhibition pavilions to be replaced with two pavilions for companion animals and livestock.
The Project
To design a Microsoft PowerPoint presentation that illustrated the objectives of the redevelopment, plus present concept plans and conceptual 3D renderings. After the live presentation was conducted, the PowerPoint document was converted into PDF format and is available for download from the Redevelopment section of the Hobart Showground website.
The PowerPoint presentation was kept simple and lacked advanced features like animation to ensure it converted easily into PDF format. The aim was to design the presentation in such a way the PDF file would remain consistent in appearance.