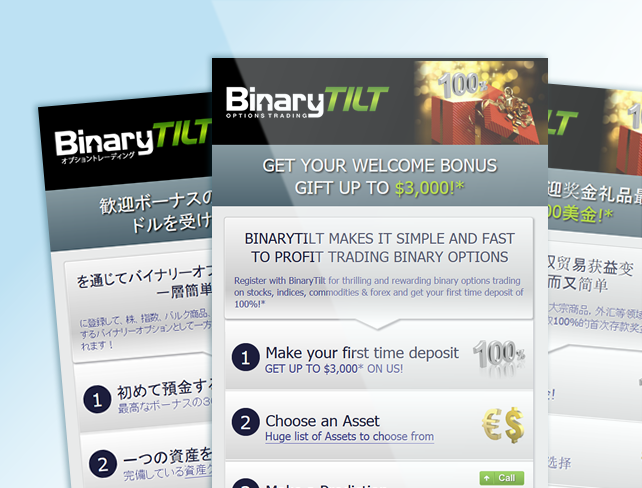 General Testimonials
Brad has designed two fantastic MailChimp templates for us. He has taken into account our existing online look, and created well styled and very usable templates. Brad understands that not everyone is a technically inclined and has provided great advice with regards to format / readability/ usability. He was also able to provide important statistical information with regards to our audience and the systems they might be using to read our broadcasts. He is flexible with his designs and has actively sought feedback throughout the design process. I thoroughly recommend him and will continue to work with him in the future.
Fast - reliable - everything perfect! Looking forward to the next project!
More Testimonials
Project Decscription
The Project:
To design a landing page for a marketing campaign. A straight forward landing page to capture leads and advertise BinaryTilt's trading platform. The landing displays a list of four simple reasons why traders should join BinaryTilt and a link to the BinaryTilt website's registration webpage
I designed the layout and encoded it as a desktop webpage with English, Chinese and Japanese language variants.
The Client:
BinaryTilt offers trading solutions for binary option traders, ranging from experienced to novice traders. They are a registered binary options brokerage who offer clients a revolutionary trading platform, which is professional, yet has a high degree of user friendliness.
Binary Options allow market participants to trade based on their view (usually short term) of a particular asset. There are a selection of assets to choose from a range of Currency Pairs, Commodities, Indices or Stocks.