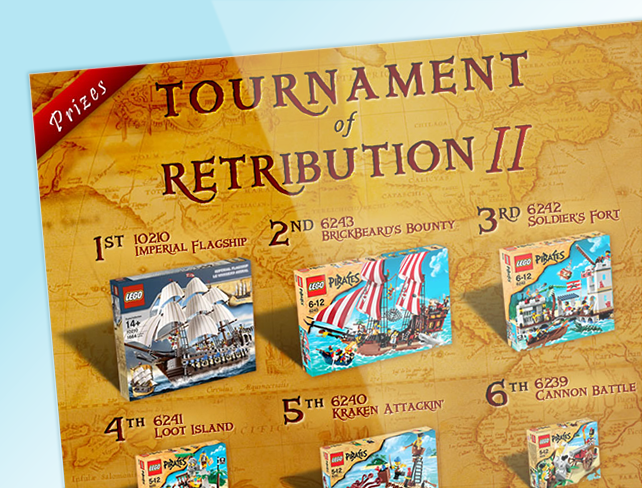 General Testimonials
The website looks amazing! Perfect! Will hire again and I do recommend Brad M. for your work.
A great service, good development and presentation of our website, easy to communicate with and a quick response. Thank you for the great work with our website this year.  You will hear it again from others, but we have made a quantum leap!
More Testimonials
Project Decscription
The Client
The Tournament of Retribution is an annual event held by the Classic-Pirates.com online community in the Eurobricks LEGO Pirate Forum.
The tournament is a competition in which entrants chose a faction (either blue coats or red coats) and then submit witty comic-based artworks depicting antagonising imagery of the opposition. After two rounds a vote is held to determine the best five entries from each faction. The successful entrants then participate in a third and final round. Upon completion another vote is held to determine the top 6 entrants who will receive a physical LEGO prize.
The Project
The requirement was to produce two promotional graphics for the tournament. The first was a simple flyer which could be used on the Classic-Pirates.com blog, Eurobricks frontpage and important LEGO Pirate forum posts. We were provided with a coloured hand sketch depicting a formation of LEGO Imperial Soldiers from both factions. To this we added a map background, heading and instructional typography in a suitably themed font.
The second graphic was a more elaborate poster featuring prizes entrants could win.  For this graphic we expanded the map background, added some artificial creases and created highlight areas distinctive from the background.  We then sourced images of the prizes (promotional photos of the LEGO Pirate sets released in 2009) and removed the backgrounds so the images integrated more seamlessly into the design.