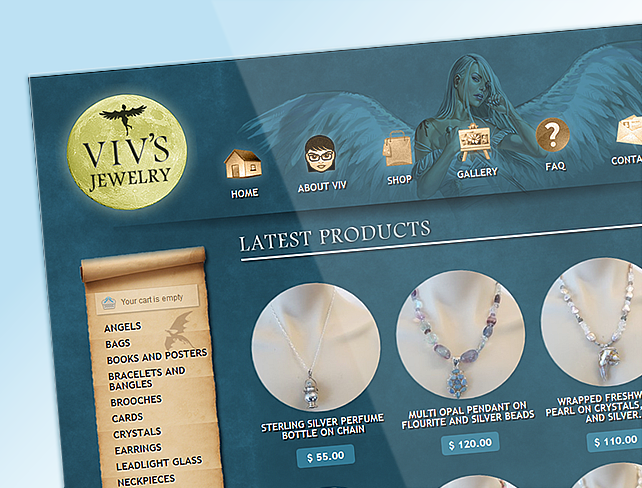 General Testimonials
Amazing!  Probably the most professional WordPress expert freelancer!
Taj Barr
Founder & Owner
Taj Barr Production
Hi I am Pamela Burke of canwilldone.com. I live in the US, Somerset, NJ. Brad worked on my RSS driven template. I am beyond pleased with his work. In fact, I told him that a few times during the time he worked on my template. What I liked most about Brad was how thorough he was. With the time difference we communicated a lot via email. He would spell out, step by step, a proposal, options, or what he would do. That made it very easy for me to ask relevant follow up questions. Brad also made sure to ask for feedback on what he had done thus far to make sure he was going in the right direction. I appreciated that. For anyone needing such services, I would highly recommend Brad. I cannot wait to set up the new template!!
More Testimonials
Project Decscription
The Client
Vivienne Oldham is a talented artist and owner of the Taranna Edge Gallery on the Tasman Peninsula, Tasmania, Australia. The Tasman Peninsula is perhaps best known as home to the popular historic site, Port Arthur, as well as, and other natural tourist destinations including The Blow Hole, The Devil's Kitchen and Tasman Arch.
Once there were many galleries and tea rooms scattered across the peninsula, but alas, these have long since disappeared! Viv opened her gallery to fill the void and give tourists another destination to visit, as well as, provide local artists with an outlet to create and present their work.
The Project
Viv wanted to showcase her products to the world so to achieve this she realised she'd have to take her gallery online. She also wanted people to have the option to purchase works online so to enable this we developed an online store which she can maintain herself.
Built on WordPress architecture, the Viv's Jewelry website provides the Content Management facilities of WordPress with additional Product Management and Shopping Cart capability. Viv can enter product information and images from her home computer while the Product Management system takes care of stock and orders. So all Viv needs to do is wait for the customer's payment to be processed and mark the product "shipped" after she's' sent it!
We also authored manuals for Viv, so she'd know exactly how to use WordPress , add items to the Product Management System and process orders in the Shopping Cart. Each manual is fully illustrated with step by step instructions so Viv can refer to them whenever she needs to refresh her memory.