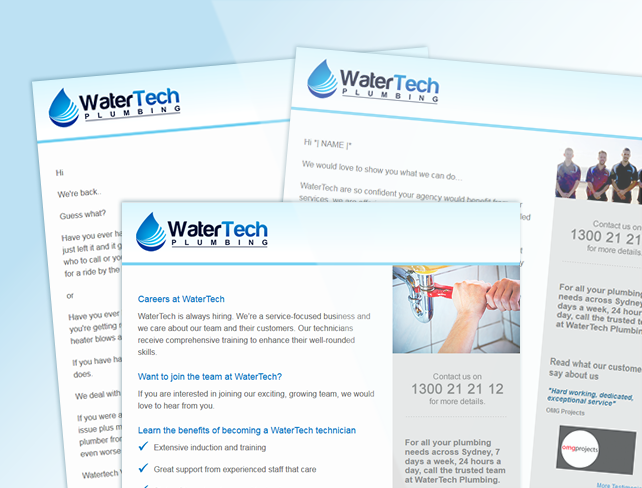 General Testimonials
Super fast responses, helpful tips to optimize our template ideas and fast delivery. Overall, it was a pleasure to work with, and would definitely recommend.
Shervin Enayati
CEO and co-founder
LazyMeal
Incredible! After many hours trying to work out our image centering issue with the helpdesk of a major email marketing provider, Brad was able to fix the issue in a very short amount of time - free of charge. He is friendly, fast and a pleasure to work with. 5 star service all around. Highly recommended.
Jeannie Lu
Community Manager
CANTURI
More Testimonials
Project Decscription
The Project:
To create various Mailers in MailChimp Template Format; Using the newsletter template I designed as a basis, I reformatted the layout and changed the content for five different mailers and a generic mailer.
Now WaterTech has a complete range of "ready to go" mailers they can send as necessary. Each mailer has a layout and design consistent with their primary newsletter but with content tailored to suit specific purposes.
The Client:
Watertech is a blocked drain clearing specialist in Sydney who uses sewer cameras to observe the cause of blocked drains. They service all areas of Sydney and have over 10 years of experience in all aspects of blocked drains.
They provide 24 hours service and have worked on many new constructions and major renovations. They offer a vast range of experience for professional builders, home builders and clients. They aim to educate clients on all aspects of plumbing through each stage of construction.