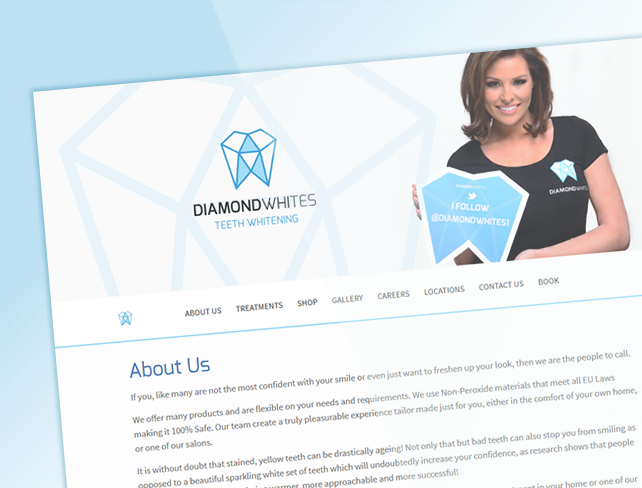 General Testimonials
Thank you for helping us find the right look for our program!
I highly recommend Brad for producing MailChimp templates. He was very responsive, did an awesome job and is very reasonably priced. I felt he went above and beyond, assisting to get the artwork in the right format to make sure we had the best possible outcome. I am amazed at how easy the template is to use and would not hesitate to use Brad again for any future requirements. Thanks Brad.
More Testimonials
Project Decscription
Improve the responsiveness of an existing WordPress Theme; the website already had a degree of responsiveness but it didn't cater for all device screen resolutions as the responsiveness was somewhat limited in the medium display size range.
I was hired to created some additional Media Queries to target more screen sizes, so now the website successfully scales from desktop to tablet to mobile.
The Client:
Diamond Whites is one of the UK's most rapidly expanding teeth whitening companies. They are salon based and offer a mobile service to provide non-peroxide, self-administered Teeth Whitening products which that are 100% compliant with EU laws.
Diamond White is based in more than a dozen locations in the UK and one location in Spain.