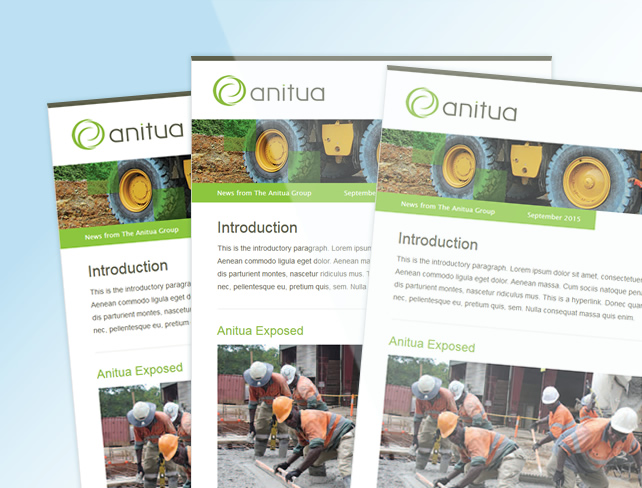 General Testimonials
Brad is exceptional! He goes above and beyond and will deliver much more than you expect. He is very good with small jobs, but he excels in bigger projects. If you want it done right the first time..... go with Brad!
Juana Dillion
Founder
Surnom Productions
Fast - reliable - everything perfect! Looking forward to the next project!
Christofer Huber
Co-Founder
Webpunks OG
More Testimonials
Project Decscription
The Project:
Design and code two MailChimp templates; Liz required a MailChimp template design with two variations, one for the parent company, the Antigua Group and another for its subsidiary, NCS. Adhering to the company's Visual Identity Guidelines I first designed a template for Anitua then modified it for the NCS template. The main variation was the colour scheme, primarily swapping the logos and Antigua's green for NCS's orange.
The Client:
The Anitua Group offers a range of services and has the ability to provide complete end-to-end solutions for construction, corporate services, farms, hardware, investments, mining services, properties, radial drilling services, security services, transport services, Lihir Auto Services and Lihir Investments (Australia).
The purpose of establishing the Anitua Group was to provide landowners a means to participate in the Lihir Gold project, one of the world's largest gold mines. Today, the Anitua Group is a major suppliers of goods and services to Newcrest (Lihir Gold Ltd). The group is now focusing on expansion throughout Papua New Guinea.