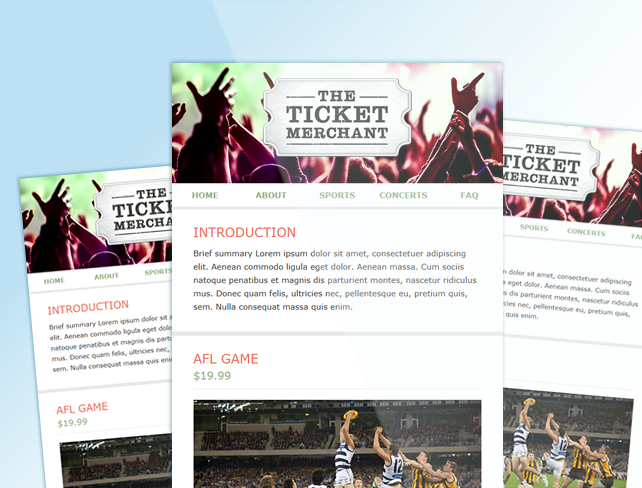 General Testimonials
Brad is great to work with - this is the 2nd project I have hired him for. Communication is excellent and I will continue to hire him if I have other jobs. Really excellent high-quality design. Brad is a true professional! Fantastic as always!
Brad was excellent to work with. He was very prompt in responding to questions and getting the work done. And the job was done perfectly. Thanks so much!
More Testimonials
Project Decscription
The Project:
Design and code a MailChimp template; Scott required a MailChimp template to promote the events his company sells tickets for. I designed a singular column layout which would easily allow him to give each event a title, price, photo, description and ticket purchase button.
A subsequent revision incorporated a row of smaller event thumbnails, which each including the event title and ticket purchase button.
The Client:
The Ticket Merchant is a Melbourne based ticket broker. For more than a decade they have been in the business of bringing customers the best tickets in town.
All tickets are sourced directly from event promoters and ticket agencies which guarantees the authenticity of the tickets they sell. Customers can be confident that every ticket they purchase is done securely and Ticket Merchant offer a 100% guarantee with every ticket we sell.