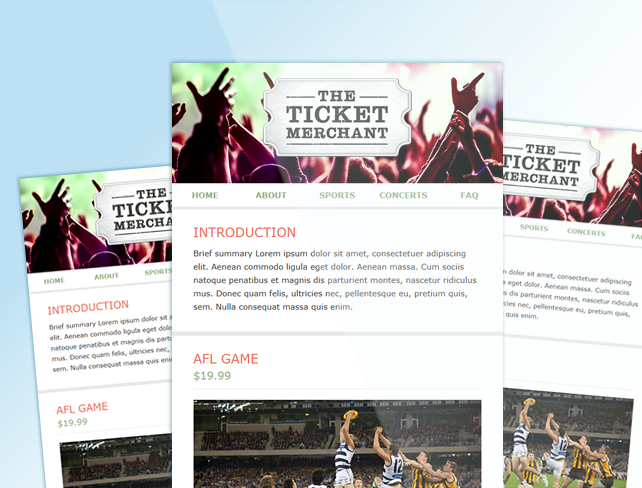 General Testimonials
Excellent. High quality work, on time, very responsive, I would highly recommend him to others and hire him again, without question, at a fair price.
Great work thanks very much.  Will definitely use for other MailChimp assistance!
More Testimonials
Project Decscription
The Project:
Design and code a MailChimp template; Scott required a MailChimp template to promote the events his company sells tickets for. I designed a singular column layout which would easily allow him to give each event a title, price, photo, description and ticket purchase button.
A subsequent revision incorporated a row of smaller event thumbnails, which each including the event title and ticket purchase button.
The Client:
The Ticket Merchant is a Melbourne based ticket broker. For more than a decade they have been in the business of bringing customers the best tickets in town.
All tickets are sourced directly from event promoters and ticket agencies which guarantees the authenticity of the tickets they sell. Customers can be confident that every ticket they purchase is done securely and Ticket Merchant offer a 100% guarantee with every ticket we sell.