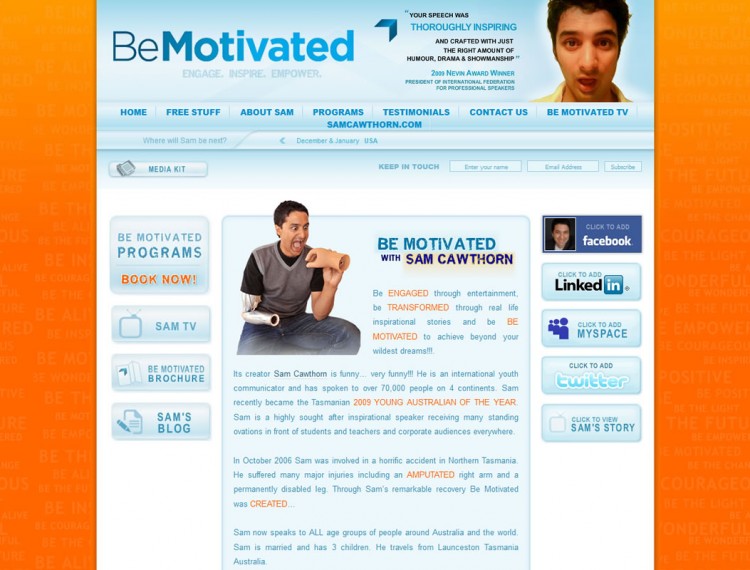 General Testimonials
Extraordinarily easy to work with and great results!
Stephen Noble
Director
Broadband Plans Simplified
Hi I am Pamela Burke of canwilldone.com. I live in the US, Somerset, NJ. Brad worked on my RSS driven template. I am beyond pleased with his work. In fact, I told him that a few times during the time he worked on my template. What I liked most about Brad was how thorough he was. With the time difference we communicated a lot via email. He would spell out, step by step, a proposal, options, or what he would do. That made it very easy for me to ask relevant follow up questions. Brad also made sure to ask for feedback on what he had done thus far to make sure he was going in the right direction. I appreciated that. For anyone needing such services, I would highly recommend Brad. I cannot wait to set up the new template!!
More Testimonials
Project Decscription
The Client
Be Motivated is the brainchild of Sam Cawthorn, an Australian motivational speaker, self-help author, success coach and entrepreneur.  Sam is also the 2009 Young Australian of the Year for Tasmania and a motivational speaker.
Sam established Be Motivated in 2007 to provide youth with skills that improve their confidence and self-belief which enable them to achieve personal goals whilst remaining positive in the face of adversity.  He regularly conducts motivational presentations at schools throughout Australia and the rest of the world.
The Project
We designed Sam a vibrant youth-orientated website to help him promote his motivational speaking endeavours.  The website has an energetic orange background with a calming blue-glass interface and plenty of whitespace to balance everything out.  It also has splashes of humour like the slideshow in the banner which fades various images of Sam pulling silly faces.
The homepage aggregates content directly from his blog's RSS feed while a second aggregator fades in Tweets directly from his Twitter Feed, enabling the website to be kept fresh automatically with new content.  The website also provides information on the programs Sam offers to school and a large selection of testimonials from organisations that have utilised his services.
A later addition to the website was the Media Kit which contains a promotional video and a collection of pictures, radio interviews and news stories about Sam's exploits.  More videos can be found on the Sam TV webpage which has its own unique television interface which is navigated via an interactive TV remote control.