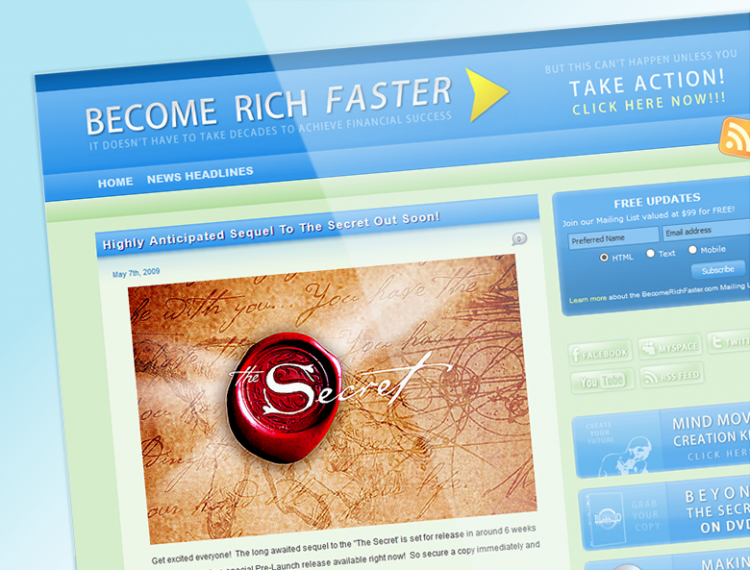 General Testimonials
Brad did a thorough technical review of my website and updated it. He showed a critical eye to detail and had creative suggestions to improve it visually and enhance the user experience.
Jason H
Luxury Property Specialist
Compass
I am happy to recommend Your Web Design Expert as a proactive and effective design company. When creating websites it is important for the designer to work with the organisation to create a look that is efficient and conveys the information contained succinctly. While designing the look and how the information was to be presented for the entertainment for the Royal Hobart Show, Your Web Design Expert were efficient and presented ideas that worked. Were easy to work with and information supplied to them was created on the website in record time.
More Testimonials
Project Decscription
The Client
Become Rich Faster is a blog offering general wealth and prosperity advice.  Content is aggregated from the Money Morning website which provides intelligent and enjoyable commentary on the most pertinent financial issues and informs readers how they can profit from them.
The Become Rich Faster blog also reviews prosperity related media like "The Secret" DVD and examines the exploits of self-help mentors like Bob Proctor.
The Project
The Become Rich Faster website is a WordPress blog with a custom designed theme.  The interface is comprised of light pastel green which is complimented with splashes of vibrant blue to provide visitors with a meditative yet dynamic visual environment.
It also utilises a Mailing List subscribe pop-over which displays after 20 seconds which allows website visitors to become engaged in the content first.   The visitor then has the option to subscribe to the mailing list, temporarily dismiss the pop-over or permanently dismiss it.
The website automatically deploys affiliate advertisements for eBay auctions listings, such as products released by Roberty Kiyosaki, Napoleon Hill, Tony Robbins, Michael Gerber and Bob Proctor, all drawn from predefined eBay RSS search feeds.