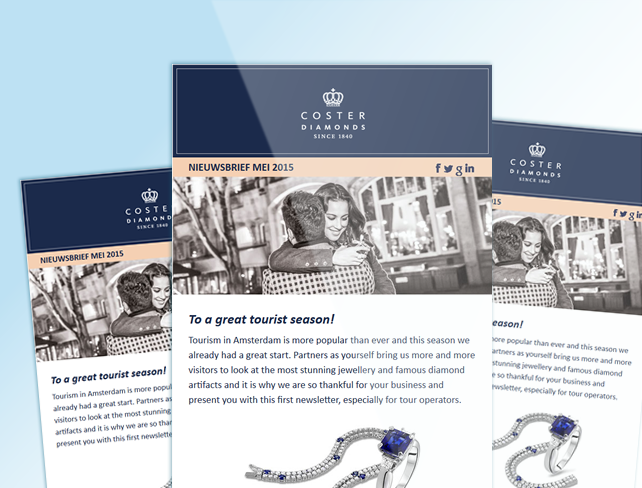 General Testimonials
Brad is great to work with - this is the 2nd project I have hired him for. Communication is excellent and I will continue to hire him if I have other jobs. Really excellent high-quality design. Brad is a true professional! Fantastic as always!
Brad is an amazingly talented and EXTREMELY knowledgeable. Bravo Brad, you are an ALLSTAR!  He went above and beyond for the project, he was EXTREMELY fluent in English and was curious about all the exact details of the project. Brad even researched into the project before he was hired. We appreciate Brad so very much and plan to hire him again soon in the future. HIRE THIS MAN!
More Testimonials
Project Decscription
The Project:
Code a Photoshop layout as a MailChimp template (PSD to MailChimp); another fairly straight forward PSD to MailChimp coding project. Robert had a design so he was looking for someone with HTML and CSS skills to code it as a template in MailChimp format.
The Client:
Coster Diamonds is one of the oldest operating diamond polishing factories in Amsterdam, The Netherlands. Responsible for the creation of a few historical masterpieces, including the re-polishing of the Koh i Noor, which was mounted in the Crown of Queen Mary and admired in the Tower of London, amongst the other Crown Jewels of the United Kingdom. Coster Diamonds also repolished the Dresden Green Diamond, which belongs to the Saxon dynasty.