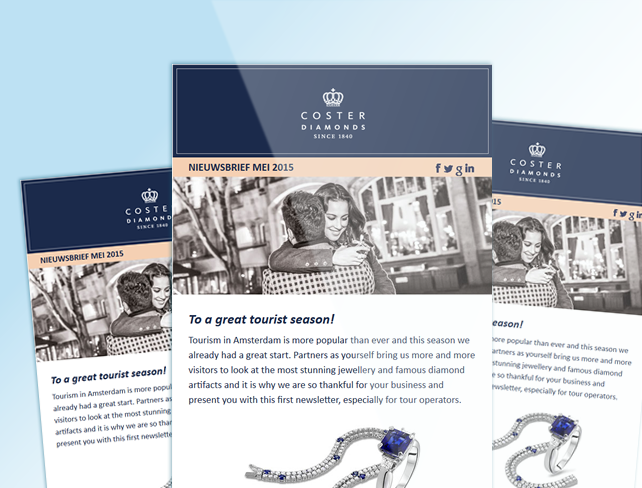 General Testimonials
When you're pulling your hair out and can't solve your WordPress problem (like me), hire Web Design XP (Brad). The "XP" is for "EXPERT" and I'm not kidding. Everything that was wrong is now working. Amazing work. Totally professional, easy to work and communicate with. I cannot recommend him highly enough. He saved my sanity. Hire this guy! He saved my sanity. Hire this guy!
Michael Milauskas
Proprietor
Jet Set Art and Design LLC
Timely and expert assistance provided by Brad in modifying a WordPress theme. Happy to hire again in the future.
More Testimonials
Project Decscription
The Project:
Code a Photoshop layout as a MailChimp template (PSD to MailChimp); another fairly straight forward PSD to MailChimp coding project. Robert had a design so he was looking for someone with HTML and CSS skills to code it as a template in MailChimp format.
The Client:
Coster Diamonds is one of the oldest operating diamond polishing factories in Amsterdam, The Netherlands. Responsible for the creation of a few historical masterpieces, including the re-polishing of the Koh i Noor, which was mounted in the Crown of Queen Mary and admired in the Tower of London, amongst the other Crown Jewels of the United Kingdom. Coster Diamonds also repolished the Dresden Green Diamond, which belongs to the Saxon dynasty.