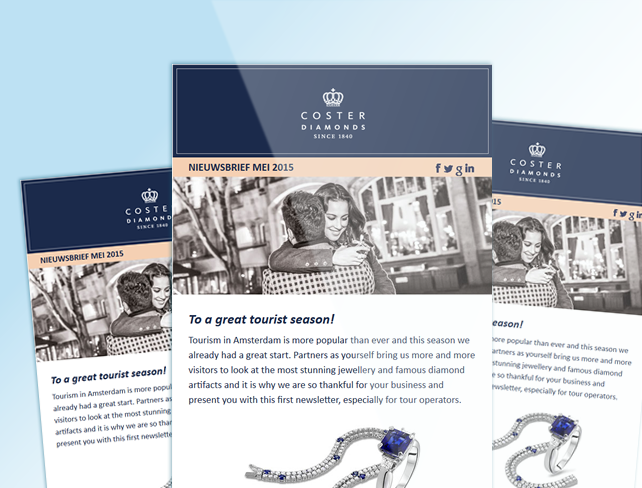 General Testimonials
Brad was great to work with. He was extremely patient when I got caught up offline as was slow in providing feedback. He was also great with suggesting ideas and concepts. He always delivered was he said he would and was responsive to requests for changes and edit. Thanks Brad!
Brad was a pleasure to work with; from clear collaboration, intuitiveness and artistic finesse. Our project grew from an outline concept to a professional presentation that will be integral to our business going forward.
More Testimonials
Project Decscription
The Project:
Code a Photoshop layout as a MailChimp template (PSD to MailChimp); another fairly straight forward PSD to MailChimp coding project. Robert had a design so he was looking for someone with HTML and CSS skills to code it as a template in MailChimp format.
The Client:
Coster Diamonds is one of the oldest operating diamond polishing factories in Amsterdam, The Netherlands. Responsible for the creation of a few historical masterpieces, including the re-polishing of the Koh i Noor, which was mounted in the Crown of Queen Mary and admired in the Tower of London, amongst the other Crown Jewels of the United Kingdom. Coster Diamonds also repolished the Dresden Green Diamond, which belongs to the Saxon dynasty.