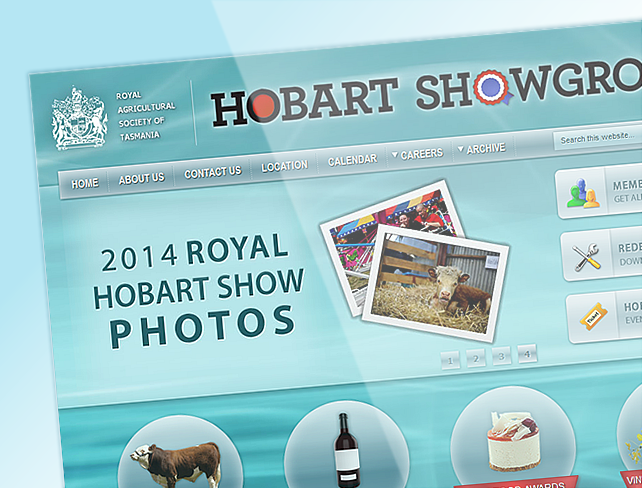 General Testimonials
Absolutely the best designer I got a chance to work with!  Quick and efficient. Very professional and very active.  Makes a lot of positive proposals to improve your project.
Brad M was quick and easy to communicate with
More Testimonials
Project Decscription
The Client
The Royal Hobart Showground is a multipurpose site located in Glenorchy, Tasmania, Australia which hosts various events throughout the year, most notably the Royal Hobart Show. The Showground also offers a Motorhome Park, Venue Hire facilities and a Market each Sunday.
In addition the Royal Hobart Showground office manages external events which include the Royal Hobart Wine Show, Royal Hobart Fine Food Awards, Australian Fruit Wine Show and Vineyard of the Year.
The Project
This website is a redesign of the Hobart Showground website active between mid-2010 and mid-2012.
In this version the primary intent was to deviate from the rectangular design of its predecessor and bring greater focus to content updates. To enable this, the slideshow which formerly cycled through slides representing each of the Showground business units now displays the important content updates. Meanwhile, the links to the business unit websites have been relocated beneath the slideshow in a circular button formation, somewhat reminiscent of the Olympic rings.
This version is Worpdress driven to provide features allowing the client to update the content of the webpages from their end. It also offers search capability allowing website visitors to search for content by entering keywords into a search field built into the website's navigation.