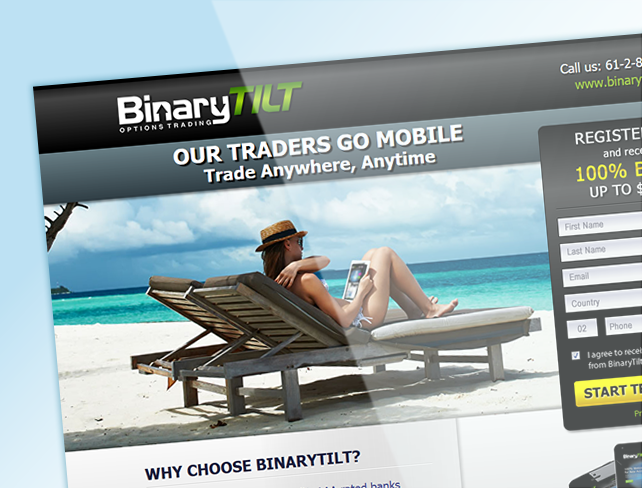 General Testimonials
Brad is an amazingly talented and EXTREMELY knowledgeable. Bravo Brad, you are an ALLSTAR!  He went above and beyond for the project, he was EXTREMELY fluent in English and was curious about all the exact details of the project. Brad even researched into the project before he was hired. We appreciate Brad so very much and plan to hire him again soon in the future. HIRE THIS MAN!
AMAZING! Love your work, thank you for knowing exactly what we want. You are part of our team and proud to say we won the local business awards for Diamond Kidz. Thank you for your help behind the scenes.
More Testimonials
Project Decscription
The Project:
To design a landing page for a marketing campaign. A straight forward landing page to capture leads and advertise BinaryTilt's mobile trading platform. The landing page feature's the company contact information, a subscribe form and a list of reasons why traders should join BinaryTilt.
I designed the layout and encoded it as a desktop webpage, while BinaryTilt provided its own property code for the subscribe form. Note: the version of the landing page hosted on my portfolio website contains a non-functional subscribe form to avoid attracting subscribers from outside of BinaryTilt's marketing campaign.
The Client:
BinaryTilt offers trading solutions for binary option traders, ranging from experienced to novice traders. They are a registered binary options brokerage who provide their clients with a revolutionary trading platform, which is professional, yet has a high degree of user friendliness.
Binary Options allow market participants to trade based on their view (usually short term) of a particular asset. There are a selection of assets to choose from a range of Currency Pairs, Commodities, Indices or Stocks.