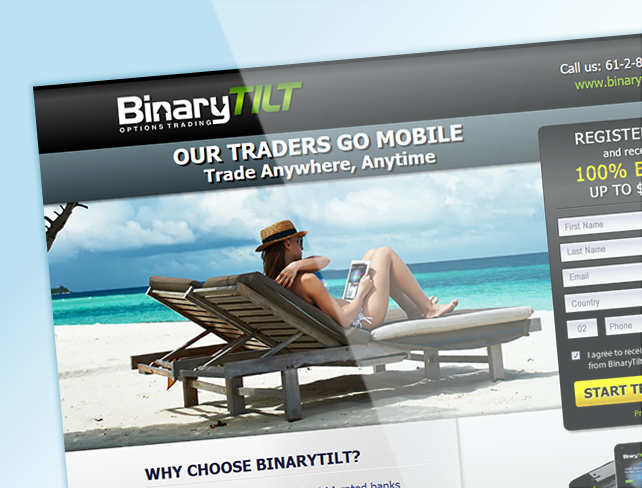 General Testimonials
Thank you for helping us find the right look for our program!
Thank you first time using this and Brad was very helpful love to keep using him
- g
reat work!
More Testimonials
Project Decscription
The Project:
To design a landing page for a marketing campaign. A straight forward landing page to capture leads and advertise BinaryTilt's mobile trading platform. The landing page feature's the company contact information, a subscribe form and a list of reasons why traders should join BinaryTilt.
I designed the layout and encoded it as a desktop webpage, while BinaryTilt provided its own property code for the subscribe form. Note: the version of the landing page hosted on my portfolio website contains a non-functional subscribe form to avoid attracting subscribers from outside of BinaryTilt's marketing campaign.
The Client:
BinaryTilt offers trading solutions for binary option traders, ranging from experienced to novice traders. They are a registered binary options brokerage who provide their clients with a revolutionary trading platform, which is professional, yet has a high degree of user friendliness.
Binary Options allow market participants to trade based on their view (usually short term) of a particular asset. There are a selection of assets to choose from a range of Currency Pairs, Commodities, Indices or Stocks.