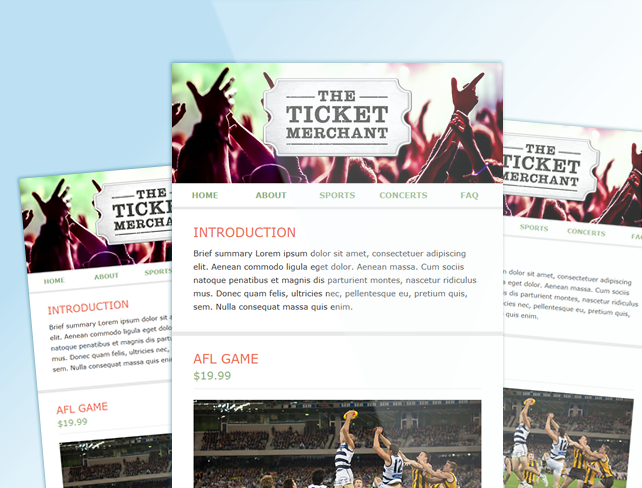 General Testimonials
Brad was great to work with and very responsive considering he is in Australia and we are in the UK. Great work, love the design, and happy to make changes as needed. Highly recommended.
Brad, from Webdesignx, programmed a custom RSS for The GOODista (
http://thegoodista.com
) newsletter template - and worked tirelessly on satisfying my high expectations, and specific ideas. The outcome was more than I could have hoped for, and the new look is professional, RSS automated and very easy for me as a non-techie to use. I would highly recommend anyone - anywhere - to work with Brad as he is a proven expert in MailChip, WordPress and coding. Interactions with Brad are of high professional integrity, and I felt totally calm that he would deliver despite my complex request for a highly customised RSS template.
More Testimonials
Project Decscription
The Project:
Design and code a MailChimp template; Scott required a MailChimp template to promote the events his company sells tickets for. I designed a singular column layout which would easily allow him to give each event a title, price, photo, description and ticket purchase button.
A subsequent revision incorporated a row of smaller event thumbnails, which each including the event title and ticket purchase button.
The Client:
The Ticket Merchant is a Melbourne based ticket broker. For more than a decade they have been in the business of bringing customers the best tickets in town.
All tickets are sourced directly from event promoters and ticket agencies which guarantees the authenticity of the tickets they sell. Customers can be confident that every ticket they purchase is done securely and Ticket Merchant offer a 100% guarantee with every ticket we sell.