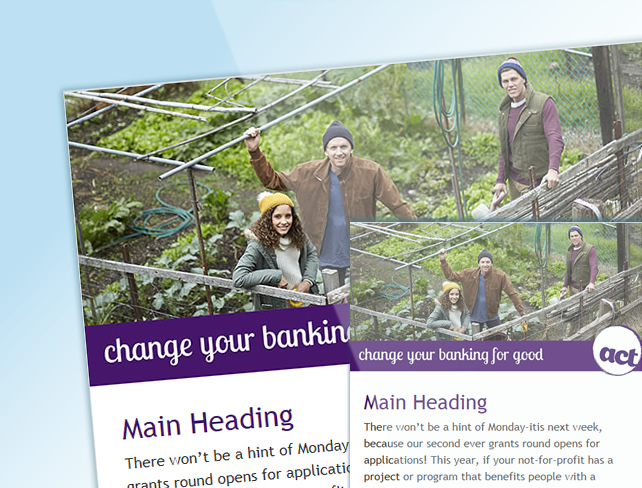 General Testimonials
Brad was responsive and easy to work with. I would not hesitate to work with him again. Thank you!
Absolutely the best designer I got a chance to work with. quick and efficient. very professional and very active. makes a lot of positive proposals to improve your project.
More Testimonials
Project Decscription
The Project:
To design a responsive MailChimp template; Peter liked the template I created for Community Sector Banking's newsletter so he rehired me to create another template for their act division.
This template is a simple mailer comprised of a header, content area and footer, with a predominate call-to-action button in the centre to direct readers towards watching act's introductory video.
The Client:
act. provides its customers with the opportunity to earn and donate banking profits to a whole range of inspiring, community-focused projects. Customers banking with act. earn "community dollars" which they can allocate to their preferred community projects.
>act. Is a division of Community Sector Banking which is an equal joint venture between Community 21 and Bendigo Bank. CSB caters to the needs of not-for-profits and is backed by the best of business banking to provide solutions and partnerships.