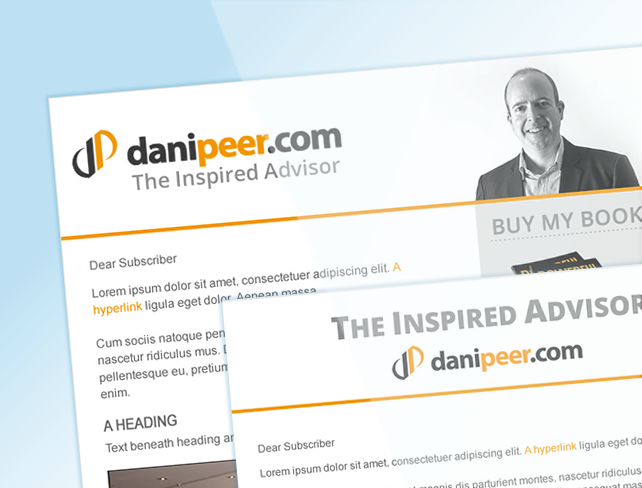 General Testimonials
Brad is great to work with - this is the 2nd project I have hired him for. Communication is excellent and I will continue to hire him if I have other jobs. Really excellent high-quality design. Brad is a true professional! Fantastic as always!
The templates look really good, Brad! I love what you did with the first one we worked on, I've tested it out a few times to Yahoo, Outlook and Gmail and it displays beautifully. Thank you very much! Your services are greatly appreciated and this is going to help my business's branding and reputation considerably in Wisconsin and the United States. I'm sure I'm just going to have you on my Email speed dial down the road for making any changes as well or as my consultant going forward. Thanks again Brad, you do GREAT work, it's been a pleasure working with you!
More Testimonials
Project Decscription
The Client:
Dani established DaniPpeer.com to provide financial advisors with the mindset and skillsets required to face to flourish.
Dani has been involved in financial services for over twenty years. He began his professional life as an articled clerk at the auditing firm Arthur Andersen & Co. His role involved interviewing employees in the accounting departments of big companies and recording their replies, which has enabled Dani to understand the fundamentals of business.
After a short period practicing as a financial advisor, he discovered his passion lie in helping other advisors enhance their practices. He stuck with this ethos through periods of self-employment and in corporate careers and has spent several years supporting self-employed practices.
The Project:
Dani approached Web Design Expert with an interest in developing both newsletter and blast out MailChimp templates. I first designed his newsletter layout however Dani realised he only required a blast out template at this point, so I simplified the design which became the basis of the blast out template.