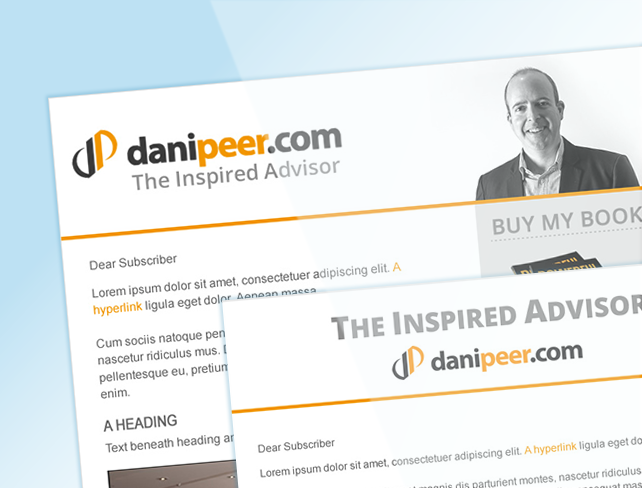 General Testimonials
Perfect. Very open minded and excellent designer. Offers ideas to help and someone I can always trust. excellent work.
Yuval R
Co-Founder
Sixstar Coaching & Mentoring
TO WHOM IT MAY CONCERN. Your Web Design Expert has been assisting Surf Life Saving Northern Territory with the hosting and maintenance of our website for two years. We selected Your Web Design Expert on the recommendation of a third party and we're so pleased we did. They have given us great advice and is extremely responsive when it comes to updating information and attachments – always a simple, 'no fuss' process. On behalf of Surf Life Saving NT I have no hesitation in recommending Your Web Design Expert to any prospective client.
Tony Snelling
Chief Executive Officer
Surf Life Saving NT
More Testimonials
Project Decscription
The Client:
Dani established DaniPpeer.com to provide financial advisors with the mindset and skillsets required to face to flourish.
Dani has been involved in financial services for over twenty years. He began his professional life as an articled clerk at the auditing firm Arthur Andersen & Co. His role involved interviewing employees in the accounting departments of big companies and recording their replies, which has enabled Dani to understand the fundamentals of business.
After a short period practicing as a financial advisor, he discovered his passion lie in helping other advisors enhance their practices. He stuck with this ethos through periods of self-employment and in corporate careers and has spent several years supporting self-employed practices.
The Project:
Dani approached Web Design Expert with an interest in developing both newsletter and blast out MailChimp templates. I first designed his newsletter layout however Dani realised he only required a blast out template at this point, so I simplified the design which became the basis of the blast out template.