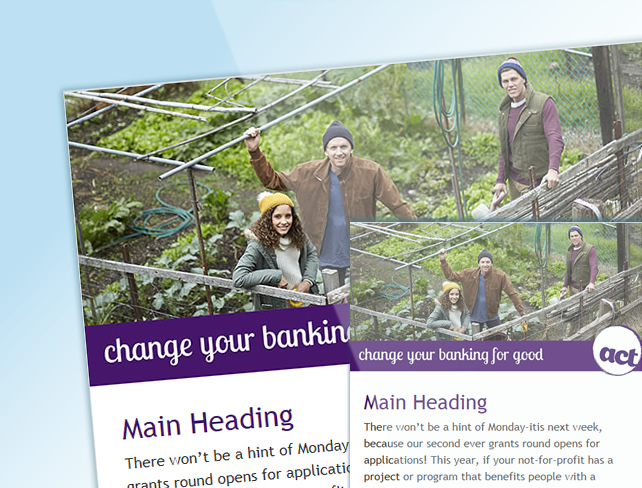 General Testimonials
Awesome Freelancer! Will Definitely use again!
Michael Gonsalves
Chief Operating Officer
iBags Luggage
Brad was amazing. After awarding another Freelancer this project and having a very bad experience, Brad came in and blew me away. He went above and beyond my requests and I was left with a great editable Layout for my MailChimp campaigns. I would recommend and will be using Brad again.
Jacob Davidson
Head Of Marketing
Corporate Protection Australia Group
More Testimonials
Project Decscription
The Project:
To design a responsive MailChimp template; Peter liked the template I created for Community Sector Banking's newsletter so he rehired me to create another template for their act division.
This template is a simple mailer comprised of a header, content area and footer, with a predominate call-to-action button in the centre to direct readers towards watching act's introductory video.
The Client:
act. provides its customers with the opportunity to earn and donate banking profits to a whole range of inspiring, community-focused projects. Customers banking with act. earn "community dollars" which they can allocate to their preferred community projects.
>act. Is a division of Community Sector Banking which is an equal joint venture between Community 21 and Bendigo Bank. CSB caters to the needs of not-for-profits and is backed by the best of business banking to provide solutions and partnerships.