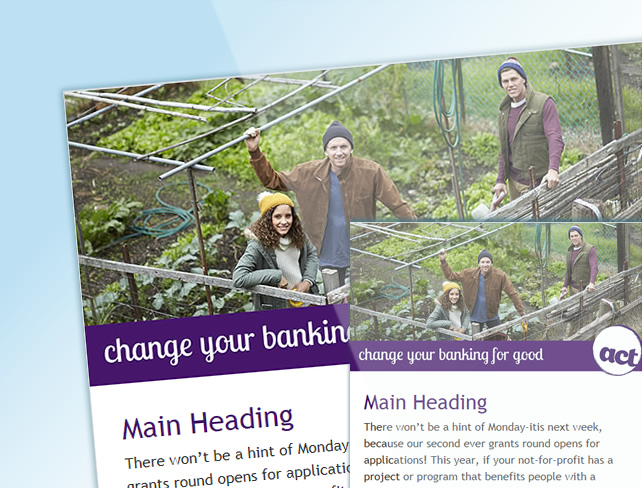 General Testimonials
TO WHOM IT MAY CONCERN. Your Web Design Expert has been assisting Surf Life Saving Northern Territory with the hosting and maintenance of our website for two years. We selected Your Web Design Expert on the recommendation of a third party and we're so pleased we did. They have given us great advice and is extremely responsive when it comes to updating information and attachments – always a simple, 'no fuss' process. On behalf of Surf Life Saving NT I have no hesitation in recommending Your Web Design Expert to any prospective client.
Tony Snelling
Chief Executive Officer
Surf Life Saving NT
"Brad is really devoted to provide the best work. I'll work with him again."
Danielle
Owner
Hands On Quality
More Testimonials
Project Decscription
The Project:
To design a responsive MailChimp template; Peter liked the template I created for Community Sector Banking's newsletter so he rehired me to create another template for their act division.
This template is a simple mailer comprised of a header, content area and footer, with a predominate call-to-action button in the centre to direct readers towards watching act's introductory video.
The Client:
act. provides its customers with the opportunity to earn and donate banking profits to a whole range of inspiring, community-focused projects. Customers banking with act. earn "community dollars" which they can allocate to their preferred community projects.
>act. Is a division of Community Sector Banking which is an equal joint venture between Community 21 and Bendigo Bank. CSB caters to the needs of not-for-profits and is backed by the best of business banking to provide solutions and partnerships.