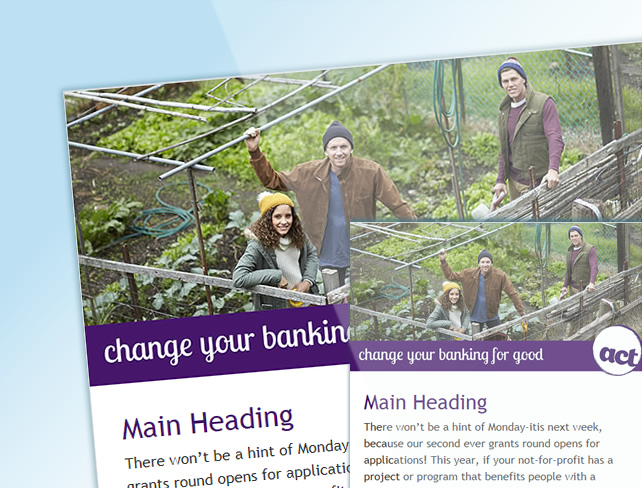 General Testimonials
Perfect. Very open minded and excellent designer. Offers ideas to help and someone I can always trust. excellent work.
Yuval R
Co-Founder
Sixstar Coaching & Mentoring
AMAZING! Love your work, thank you for knowing exactly what we want. You are part of our team and proud to say we won the local business awards for Diamond Kidz. Thank you for your help behind the scenes.
More Testimonials
Project Decscription
The Project:
To design a responsive MailChimp template; Peter liked the template I created for Community Sector Banking's newsletter so he rehired me to create another template for their act division.
This template is a simple mailer comprised of a header, content area and footer, with a predominate call-to-action button in the centre to direct readers towards watching act's introductory video.
The Client:
act. provides its customers with the opportunity to earn and donate banking profits to a whole range of inspiring, community-focused projects. Customers banking with act. earn "community dollars" which they can allocate to their preferred community projects.
>act. Is a division of Community Sector Banking which is an equal joint venture between Community 21 and Bendigo Bank. CSB caters to the needs of not-for-profits and is backed by the best of business banking to provide solutions and partnerships.