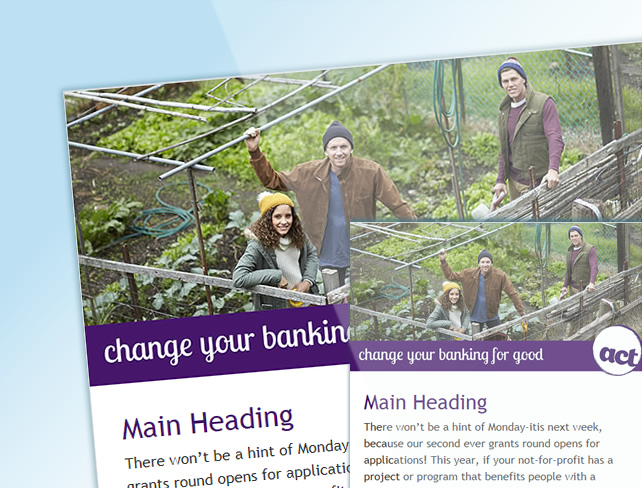 General Testimonials
Brad was great to work with. He was extremely patient when I got caught up offline as was slow in providing feedback. He was also great with suggesting ideas and concepts. He always delivered was he said he would and was responsive to requests for changes and edit. Thanks Brad!
Always delivers 100% a pleasure to work with great attention to detail.
Perfect with only one draft delivered very quick.
Understood direction really well produced quailty work
. G
reat, delivered on time will hire again!
More Testimonials
Project Decscription
The Project:
To design a responsive MailChimp template; Peter liked the template I created for Community Sector Banking's newsletter so he rehired me to create another template for their act division.
This template is a simple mailer comprised of a header, content area and footer, with a predominate call-to-action button in the centre to direct readers towards watching act's introductory video.
The Client:
act. provides its customers with the opportunity to earn and donate banking profits to a whole range of inspiring, community-focused projects. Customers banking with act. earn "community dollars" which they can allocate to their preferred community projects.
>act. Is a division of Community Sector Banking which is an equal joint venture between Community 21 and Bendigo Bank. CSB caters to the needs of not-for-profits and is backed by the best of business banking to provide solutions and partnerships.